Hallways: Wild, wild wallpaper
Oh, the hazards of blogging: I almost forgot that
I promised to round up hallway inspiration
!
I actually had a lot of fun pulling these images together, despite the fact that I myself can't afford to wallpaper the upstairs hallway, the long boring space that I'm thinking of revamping next. And despite the fact that I lost this entire post and had to resource most of the images--twice. I know the formatting isn't consistent, but I'll tell you what: blogger just kicked my ass.

Anyhoo.
Bold Florals and Chinoiserie
No introduction necessary. I'll keep my oohs and aahs to myself.
House Beautiful
Miles Redd in House Beautiful
Domino
Meg Braff


spotted
here
Domino
spotted
here
Concentrated Color!
Design Sponge via
Charles Davis Styling
Design Sponge
Ashley Whitaker in domino
Kelly Wearstler for Chloe Sevigny, via
Evie and Bluebell
Bold Black and White!
Brett Bara
Domino
Eric Cohler in House Beautiful
And, of course, stripes. They work thick or thin, black and white, two-tone, or all out color. Traditional, modern, or funky. Talk about versatile: no wonder they're everywhere.
Horizontal!
Miles Redd again, in Domino
spotted
here
two via
Abode Love
via
do you love where you live
Vertical!
We've seen less of this, I think, but I love it in a long hallway to break up the tunnel effect.
spotted
here
Miles Redd via
Travel For Design
Swoonworthy
via
Inspire my house pretty
Take it over the top!
spotted
here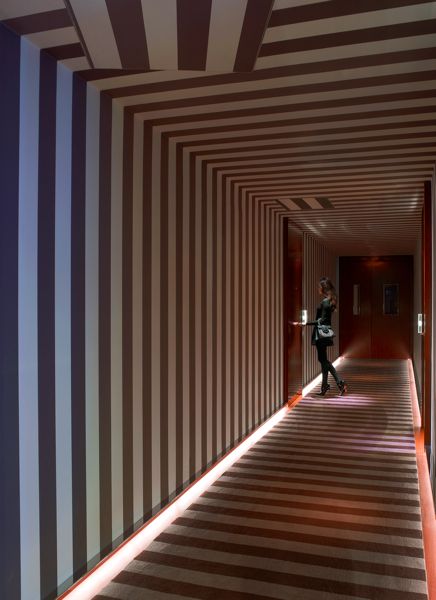 via
Hotel Chic
Now this last one is not technically a hallway, but when I stumbled upon it flipping through my Domino collection, I realized it must have burned itself onto my retinas only to remembered later. That's right, my plan for the upstairs hallway had been to do tone on tone raspberry stripes. Hmmm. So original!
Domino






Well, I'm exhausted. what do you think: could you handle such a bold statement in a hallway? Or is it just too much?