Kantha Chair
I am loooooving the Kantha trend. I called it
here
. Still seems like the natural next step with other ethnic textiles (ikat, souzani) ever more popular and in danger of playing themselves out. (have done them both, still love them both, but still.)
After all the little kantha pillows and throws (
Pottery Barn, Jayson Home and Garden, West Elm
), I love seeing Kantha upholstery on this limited edition chair from West Elm.
I especially love that they chose a sort of mid-century inspired chairs with angular lines and narrow legs to set off the blue stitched quilts.
If I had space, I would totally put this in
the guest room
- the little bit of masculinity and less-than-serious upholstery would be just what the slightly-formal room needs.
Okay, the kilim sofa, also limited edition, is pretty hot, too.
I've also just been noticing that Pulkhari is fast on Kantha's heels, what with pillows all over One Kings Lane and Serena and Lilly's Bazaar, for all of $500 a pop.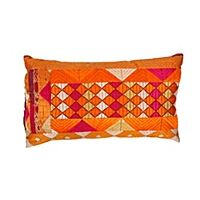 What do you think about upholstering pieces with exotic textiles? Any calls on what's next?